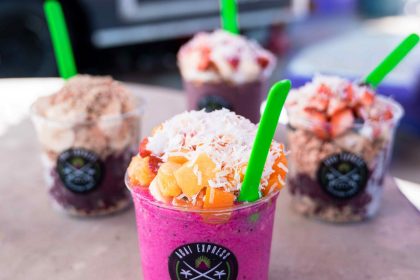 The Açai Express Journey: How We Got Our Start and Where We're Going
Açai Express got started with a dream to have healthy food options be accessible and on the go for people with active lifestyles. When we started Açai Express eight years ago, we were the first concept to offer açai, pitaaya, fresh juices, and smoothies all in one place. Today, we're leaders in our industry, having added two more bowl concepts; coconut and mango bowls and a Creamery and Cafe concept for those looking for a sweet treat.
How did we become leaders in our industry? We'll give you the details on how the brand was born, how it's developed, and how we're planning to expand in the coming years.
The Açai Express Superfood bowls concept is the brainchild of our fearless leader Héctor Westerband, CEO and chief creative officer. In 2013, Héctor looked for healthy food options for his active lifestyle as a surfer and Brazilian jiu-jitsu practitioner. Soon, he found himself selling homemade açai bowls out of a small food truck using only the freshest ingredients and grade-A açai imported directly from Belen, Brazil, where the açai berry is harvested.
The concept became so popular, Westerband started attracting lines down the curb. He knew he had struck gold in a market that was craving delectably healthy superfood bowls. Soon after that came the opportunity to franchise the concept from customers inquiring how to invest and become Açai Express franchise owners. When Héctor suddenly found himself with 13 food truck franchises throughout the island, he knew he had found a concept small business owners anywhere could use.
From an açai bowl shop to a full-fledged franchise concept, Açai Express has branched into an all-out lifestyle brand. The superfoods brand has three main business models: the food trailer, the food truck, and the traditional brick and mortar store potential franchisees can choose from.
Recently the brand updated all its trailers with the newly launched re-branding and bigger trailers. Açai Express also added a creamery concept, responding to a market need for ice cream options. The creamery makes its small-batch gelato in-house and creates unique treats on the cold stone concept. Besides the creamery, they also added a fresh popsicle concept called Pikolé (popsicle in Portuguese.) They also added coconut and mango 100% vegan sorbet bowl bases, which have become very popular.
Within the stores in the United States, Açai Express started a quesadilla concept called "Freshadillas."
Today, Açai Express has 34 stores open in Puerto Rico, Florida, New Jersey, and South Carolina, with 24 more stores in the pipeline of franchisees that are in the process of opening. Açai Express should inaugurate those stores within the next year and a half.
We are proudly one of the few concepts in Puerto Rico that are doing açai as their primary offering. We plan on opening 50 stores by the end of 2023 with no signs of stopping. The sky's the limit!
Are you looking to be an Açai Express franchise owner? Get in touch with us today through acaiexpressfranchise.com.