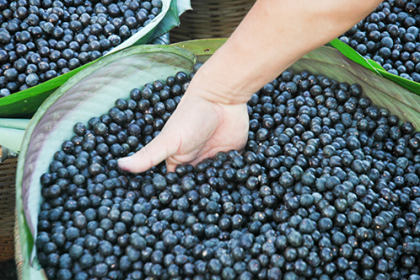 According to Future Market Insights, the acai berry market was valued at over half a billion dollars in 2016, and should hit nearly two billion US dollars in revenue within the decade. That's opportunity.
But It takes savvy, business sense to differentiate between sustainable trends and fads. Players trying to seize on a hot trend can short change the research, finances, skills and commitment required to launch and grow a long term business. Corporate giants tend to move quickly on promising trends to gain market share, but they don't have the personal interest, passion and streamlined decision making process that a small business owners possess.
Entrepreneur, Hector Westerband, has grown Acai Express®, literally from the ground up since his original food truck opened in Guaynabo, Puerto Rico in 2013. He's learned first-hand how to perfect his products and processes to transform his vision of the Acai Express brand into a successful reality. With 18 operations, Westerband isn't just a business man with a proven concept that is in sync with consumer-demands for a healthy diet. Hector is a man following a passion rooted in his commitment to making life better for his customers, lucrative for potential franchise entrepreneurs, supportive of local communities, and reflective of his native Puerto Rico. This true, self-made success story is an attractive and powerful reason for prospective franchise owners to take a page from the founder; his experience, proven business model and passion.
The benefits of a healthy lifestyle and eating are something Westerband lives first hand. As a surfer and fitness proponent in his personal life, Hector was spurred by the success of his first food truck and rapidly expanding Acai Express outlets in Puerto Rico to find the best quality super fruit as the base for his bowls, smoothies and juices. He found that the Brazilian berry, harvested in the Amazon rain forest, offered the best quality Acai berries with the highest antioxidant properties. His choice of 100% organic Grade A berries offers the highest quality ingredients and also supports the Amazon basin's local organic farming community — giving back to the people who make his business possible.
Staying true to Hector's personal philosophy and mission to offer healthy, alternative choices to a growing community of interested consumers, Acai Express serves only organic, 100% pure Grade A acai berries that have been processed using a proprietary recipe. With menus including quick, any-time snacks bowls topped with oatmeal seeds, nuts, and fresh fruit, smoothies and juices for on-the go energy boosts, loyal customers and newcomers are ensured of a consistent experience with every purchase and maximum health options in the form of mouth-watering tastes. Acai Express is showing the world that developing healthy eating habits is delicious, fun, and easy.
Franchise owners are ensured of an opportunity to capitalize on a consumer trend that is skyrocketing by buying into the dream, conviction and success of Acai Express and the man who has carefully refined the product and operations and consistently strives to keep the quality and vision pure. The timing couldn't be better for a health-affirming fast casual food experience.