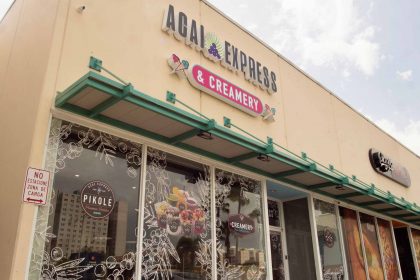 With the Açaí Express Creamery and Cookie Cafe, Acai Express created a concept to produce their own fresh home-made, small-batch ice cream combinations, just in time for the summer.
With a wide array of sweet offerings including: small batch home-made ice cream, milkshakes and smoothies, frappes, coffee, cookies, baked goods, sundaes, ice cream cakes and ice cream pints, the Acai Express Creamery is poised to please those looking for sweet treats.
Aside from the creamery and cookie cafe goods, this new concept also carries the original acai and pitaya bowls and smoothies, including the Pikole line of frozen popsicles.
What's New at the Creamery?
As we've mentioned before, during the pandemic people are looking for comfort foods such as ice cream and baked goods. With the Acai Express Creamery and Cookie Cafe we seized the opportunity to launch a concept that combined the healthy food options we're known for, with dessert comfort foods such as shaka shakes, cookies and coffee, sundaes and banana splits, cookie ice cream sandwiches, and create-your-own ice cream cakes and pints.
The business and operational model is the same as the original Acai Express concept and franchising opportunities are available.
New Concept Comes to Life
With the flagship store located in Plaza Encantada in Trujillo Alto, this concept has the potential to expand wherever there's a market for healthy food options combined with dessert and coffee offerings.
We can't wait for you to try this new concept and fall in love with it as we have! Come check it out.