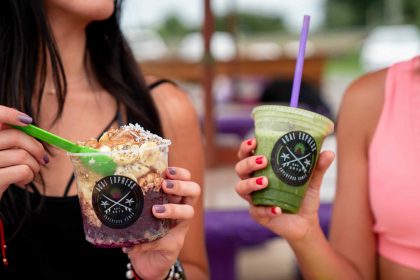 Why Eating Organic Means Healthier Body and Healthier Planet
With organic farming, the main goal is to create sustainability in the environment and in the food that's grown without adding harmful pesticides.
Why switching to organic is better for your health
USDA-certified organic fruits and vegetables are grown without synthetic pesticides and artificial fertilizers, which means there are fewer fertilizers and heavy metals in the product you're consuming. This also means organic produce has a higher nutrient content when compared to non-organic produce.
According to a 2016 study in the British Journal of Nutrition, organic options have over 50% more omega-3 fatty acids when it comes to meat and dairy products. Omega-3s is a type of unsaturated healthy fat that is more prevalent in organic meat and dairy products.
Organic meat and dairy products are grown without antibiotics or synthetic hormones, which are "intrinsically safer," according to the Biodesign Center for Environmental Security director at Arizona State University.
Let's face it; we know buying organic is more expensive than settling for the conventional produce sold at the supermarket. Buying organic pays off not just in terms of your health but for the livelihood of the environment.
And if you can't afford to buy everything organic, make sure you're purchasing these fruits organic: strawberries, spinach, kale, mustard greens, nectarines, apples, and grapes, says the Environmental Working Group's 2021 Shopper's Guide to Pesticides in Produce. According to USDA data, these fruits are known as "the Dirty Dozen" because they're typically contaminated with more pesticides than other crops. From the study's key findings: "More than 90 percent of samples of strawberries, apples, cherries, spinach, nectarines, and leafy greens tested positive for residues of two or more pesticides."
Toxic pesticides and artificial fertilizers used in farming conventional products are incredibly harmful to the environment and your health. Pesticide and artificial fertilizer exposure can even have a long-term negative impact on your body. By eating organic foods, you prevent the risk of developing diet-related health problems while also fueling up with the best and healthiest options available.
Here at Açai Express, we use only the best quality açai and fresh fruits and vegetables for our bowls, smoothies, and fresh juices.
The Bottom Line
If buying everything organic is out of your budget limits, consider buying the Dirty Dozen (described above) organic and eggs, dairy, and meats. Pregnant women, the elderly, and young children may benefit from eating organic but keeping in mind that a balanced diet of protein, vegetables, and fruits is still of the utmost importance. It won't matter if you're eating all organic if you're eating too many carbohydrates and proteins but not enough vegetables.Experts also suggest getting informed about why you're buying organic and not listen to individual studies that haven't been appropriately backed by research. Make sure you're buying because you want to eliminate your exposure to pesticides and antibiotics while also keeping in mind a balanced diet is key to optimal health.