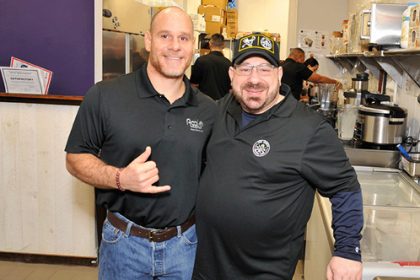 Perhaps the best endorsement of a business opportunity comes from people who have invested their own time, money, and personal commitment. Existing franchisees provide valuable insights into what it's really like to be in business with a franchisor. Here's what three Acai Express franchise owners revealed about their experiences.
Lyle Swanson – As regional director of the Subway Puerto Rico franchise and president of the Subway Island Development, Lyle Swanson, who has close to 30 years in the franchise industry, wasn't thinking about investing in a new franchise concept when he met the founder, Hector Westerband, eight years ago. Westerband sought out Swanson as his mentor to help him navigate the complexities of franchising Acai Express in Puerto Rico: cost, locations, financing, negotiating and more. The relationship and mutual respect grew from there.
Swanson was impressed with the business concept from the start; a business capitalizing on the superfood — the acai berry — and the growing demand for healthier diet alternatives in the fast food industry. "Hector Westerband does acai berry over the top. Better than any competitor." Swanson explains. "He has sourced the highest quality fruit and organic acai berries so that he is offering a really superior product. Over a short period of time, Westerband has expanded his menu thoughtfully and developed resources that the typical franchisor just doesn't have."
After witnessing such impressive growth Lyle Swanson decided to take advantage of the low entry cost and buy his own Acai Express franchise in Puerto Rico 3 ½ years ago in a large part because of Hector Westerband. Swanson says, "Hector has as an insatiable drive and a huge sense of urgency to get things done and get them done right." Swanson champions the Acai Express offering as well explaining, "Acai Express is a great starter business because it carries low financial risk. It gives new entrepreneurs excellent systems to follow and has great potential for a strong return on investment." He is currently exploring a second Acai Express offering in Colorado.
Amy Rivera – You could say that franchising is in Amy Rivera's blood. Ms. Rivera's family owns Subway franchises in Puerto Rico. Her knowledge of the franchise industry comes from personal experience working every aspect of the family business since childhood. Ms. Rivera recalls, "As the acai berry became trendy, there was lots of competition. Lots of stores jumped on the fad. But they didn't succeed. The inferior quality of their products and poor service didn't withstand the pressures of the real world."
Ms. Rivera observed that something at Acai Express was different. This was a company with good leadership and excellent products. After some due diligence, Ms. Rivera confides she was "very impressed" when she met Hector Westerband. His dedication to sourcing the highest quality ingredients, his personal commitment to supporting franchise owners and the appeal of a low start-up cost led her to open her first Acai Express trailer in 2014. In her own words, "It was a-never-before-experience." Within ten months the business was breaking even. By the end of year one, it turned a profit. That spurred Ms. Rivera to open a second venue in 2014, and a third unit soon after. Today her fourth Acai Express unit is in the works.
As a multi-unit owner, Ms. Rivera has managers in each store. She says the operations and systems are very well designed and easy to manage. Her success has been passed along to her employees who recognize their opportunity to grow as each new unit opens.
Ms. Rivera praises Hector Westerband for being very accessible and supportive to owners. She recalls Hector being on site at the launch of one of her venues working 12- 13 hours a day. "He is very protective of the brand and franchises. He really wants everyone to succeed, like a family. He's always available to answer questions or help resolve problems and he is very receptive to new ideas. It makes working with him very inspiring."
Jose Vazquez – The explosive growth and popularity of the acai berry in Puerto Rico caught the eye of franchise veteran Jose Vazquez, as well. Like other Acai Express investors, Vazquez was won over by the business model and man behind the concept.
"Hector Westerband is 100% focused on his business. He takes a very dynamic approach to Acai Express." Vazquez notes. "He is constantly improving products and expanding the menu, whether he is developing new smoothies, bowls, or juices. He finds new ways to improve quality and develop efficient systems. The operation is very well organized. Hector also believes in maintaining a strong presence in social media and advertises to promote the brand. That kind of dedication and energy is rare in a franchisor. The typical franchisor creates his model and moves on. It can become stagnant and limits growth. Not so for Hector."
While some people express concern that interest in the acai berry may be a novelty that could pass over time, Vazquez counters with the fact that Acai Express attracts customers living "a healthy life culture" and that population is growing. "Our products aren't viewed as a dessert or snack. They are nutritious meal replacements for active people of all ages. It's not surprising to find customers coming back several times a week; after a gym work-out or sports activity, day or night. They want a healthy energy boost or order bowls for lunch or dinner. The demand and appeal of fresh ingredients, fresh fruit, and good nutrition will never go away." Vazquez concludes.
Vazquez purchased the rights to two Acai Express franchise units and enlisted the support of his son to establish his first location in 2017 before opening his second location a year later. "Once an owner gets the logistics in place and addresses the unique characteristics of a location, you can easily add additional units for greater profitability." Vazquez continues, " With a low initial investment, low margins and excellent systems, the business lends itself to setting up multiple units quickly." His confidence is high. And he aims to have five Acai Express units open within the next few years.
The success, enthusiasm, and future plans of these three Acai Express owners paint an appealing picture for joining the team as the company launches a major expansion initiative in the United States in 2019.