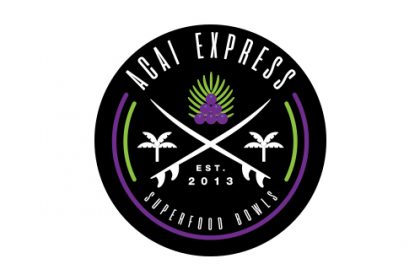 Franchise expert, Gary Occhiogrosso recently wrote in Forbes, "Branding is the practice of making a name, symbol, reasons, and guest experience stand out in the minds of consumers. Branding gives the company and its products a competitive edge above other companies which provide similar products. Many consumers want to know what a company stands for, it's mission, how it goes about its business and why you should eat at a particular restaurant. The need for guest engagement has led restaurant marketers to pivot from purely traditional advertising to creating a total restaurant experience."
The crucial process of creating a brand strategy, took Acai Express owner, Hector Westerband, back to his original inspiration; the why and the where of the company. The colorful, flavorful products that Acai Express sells are the end result of a bigger story; the healthy lifestyle he so passionately believes in.
Acai Express is a lifestyle brand rooted in the sea, surfing, tropical beauty, a respect for fitness, wholesome diet and healthy living. That's the big picture that inspired Westerband to launch his first food truck serving the tropical fresh fruit bowls and juices to beach communities in his native Puerto Rico in 2013. He wants his brand to convey that positive mood and reinforce healthy living choices.
Whether customers come to know Acai Express via a brick and mortar venue, food truck or trailer, Hector and his team want the experience to be fun, relaxing and reminiscent of a day at a tropical beach — a beach where health-minded people congregate to savor juicy delicious flavors that make you feel good body and soul.
The mood is cool, fun and subtly tropical. Color is key. Pops of deep purple speak to the many virtues of the Brazilian Acai berry (the basis of the menu). Caribbean blues and greens hint at the sea and restorative beach days. Palm trees and surfboard graphics decorate the space. But rather than be overly themed, the vibrant menu is the main focus. Much of the eye-pleasing color comes from the beautiful tropical ingredients that go into fresh bowls, smoothies, and natural juices.
Menu boards carry large photographs of delicious acai bowls, pitaya and California bowls heaped with fresh fruit: bananas, mango, blueberries and strawberries, and acai berry pulp and wholesome toppings like coconut flakes and Nutella. These images tempt guests while familiarizing them with the many choices and combinations available. Product names reflect beachy locations and surfing references for those in the know. It's an upbeat experience, similar in feel to the fun of a visit to old-fashioned ice cream parlor but with the huge upside of healthy, energizing grab and go snacks, beverages, and bowl meals to enjoy any time of day.
Marketing Director, Ricardo Mercade, explains the Acai Express look — the logo and design — has been revised and tweaked as the company has grown. Market research has helped the design team find the branding sweet spot that attracts the highly desirable Millennials and Gen Xers who readily embrace lifestyle brands. As the Acai Express franchise grows, and these early adopters discover a mission and products that suit their lives, mainstream consumers will follow. And Acai Express will offer an express route to a healthy lifestyle for the masses.